Cambelt Servicing & Repairs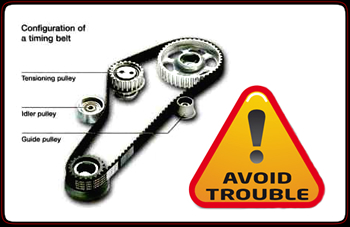 Cambelts for all cars makes & models - free estimates.

"Don't take the risk"
Call us now to book your car in to save expensive damage from a broken belt - keep in mind that if they break, the cost of repairs can be over $2000.
We strive to provide an efficient professional service with accurate advice & the highest quality work, using the best replacement parts.
Price on application
Information
WHAT they are
Cambelts have replaced timing chains to help make today's sophisticated engines possible. They are lighter, quieter, more efficient & more economical than chains.
WHERE they are
Your cambelt is inside your engine. You can't see it when you open the bonnet.
HOW to know if your car has one
Your owner's manual may tell you, but your best bet is to contact us.
WHY you need to know
As with any other auto part, cambelts eventually wear out. They need to be replaced before they break. Failure can cause expensive engine damage.
What is an interference engine?
An engine is either "interference" or "free-running" depending on its design. If the cambelt breaks on an interference engine, an open valve may be struck by a moving piston. This can result in serious damage & expensive repairs.
We strive to provide an efficient professional service with accurate advice & the highest quality work, using the best replacement parts.
Other Components
To obtain the full life of your new cambelt it may be necessary to replace some other components, which will be inspected during the job.
Auto-Tensioner
If your vehicle uses this type of tensioner, we would advise that this is replaced along with your cambelt, & it will be included in the quote.
Tensioner & Idler Bearings
These guide the cambelt around the drive & driven pulleys. Any noise or excessive play indicating possible problems means replacement would be recommended.
Oil Seals
Oil contamination of the cambelt will shorten the cambelt life. If there were any indication of oil leakage in this area replacement of seals would be recommended.
Drive Belts
These belts run auxiliary components, e.g. alternator, power steering, air conditioning & sometimes water pump. In most cases cambelt replacement requires removal of all drive belts, thus making inspection for worn or damaged belts easy. If required, new drive belts can be fitted on reassembly.


Please note: If new drive belts are fitted they may require readjustment due to stretching, causing an


obvious squealing noise usually when cold. The readjustment will be carried out at no charge.
Water Pump
This compenent is sometimes driven by the cambelt & usually always requires removal of the cambelt to replace - even if driven by an auxiliary belt. Any sign of leakage or noise would indicate replacement required. We recommend to replace this along with your cambelt for which we would be happy to quote.


Please note: Unless there is an obvious fault, water pump life cannot be guaranteed.
Price on application
Trading Hours

Mon:
Tues:
Wed:
Thurs:
Fri:
Sat:
Sun:

8:00 - 5:00
8:00 - 5:00
8:00 - 5:00
8:00 - 5:00
8:00 - 5:00
8:00 - 2:00
Closed

Location

2 Hetana Street,
New Lynn, Auckland 0600

(Close to the Undercover
Carpark Entrance of Lynnmall)

Phone / Fax: (09) 827 0717

Email: office@wofwhileushop.co.nz